4 Work Zones
Think of the work arena in 4 zones, mapped onto axes that divide activities according to whether they are individual or team in nature and whether they are technology- or people-focused.  Some people spend their days almost entirely in one of the four zones, others move around on an hourly basis.
People Sharing Expertise
ICONDA generally works with highly-trained professionals whose career evolution is stretching them across all these zones. They have a big stake in the 'Expertise' area (even if it is no longer their prime focus) and they move a lot from zone to zone and across the axes. One of their key drivers has become sharing expertise.
Mobile, but how Agile?
These mobile workers have a wide range of specialties – engineering, finance, medicine, design, architecture, to name a few – and a common denominator in the time and commitment they have invested in their area of expertise. They are often highly solicited and under a lot of pressure, not least because they may not have the agility to match the mobility required of them (agility allows you to be mobile without too much pain – it implies suppleness and ease of movement).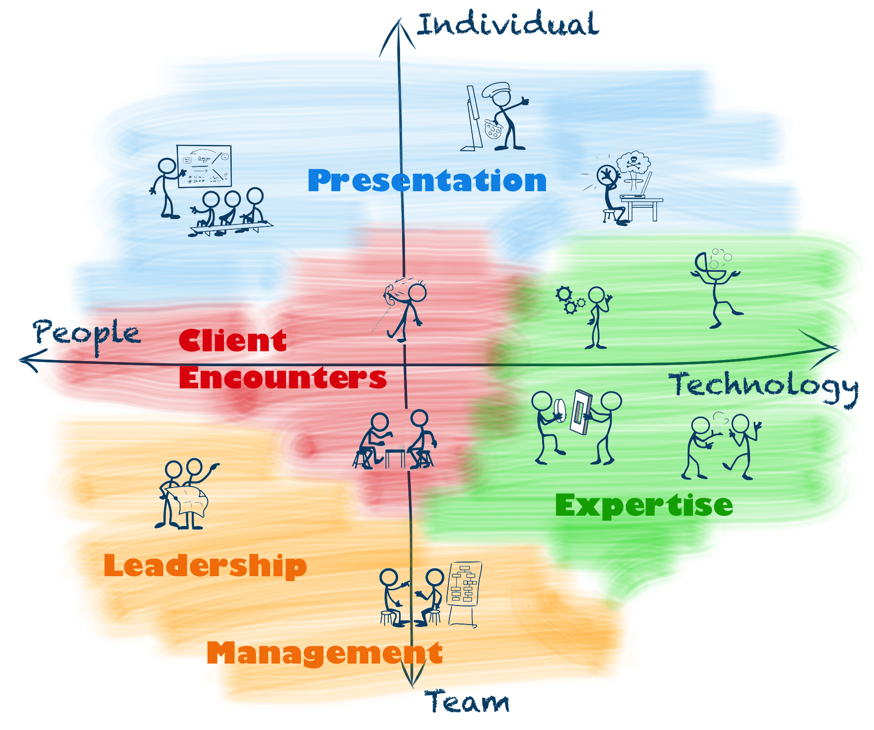 Global 24/7
Agility means well-developed multi-zone, cross-axis skills, and we believe that these are becoming more important than ever. It has always been true that, the more knowledge and skill we have, the more important it becomes to pass them on. In addition, however, the culture of constant, global 24/7 availability is making agility not only more necessary but also harder to master.
The Barriers are Down
Global 24/7 is the result of modern communication technology making everyone potentially accessible at the push of a button. It is also reducing information asymmetry to the lowest levels ever – anyone wishing to find something out can generally do so using online research. Traditional barriers between those with data and those without are going down fast, giving rise to both opportunities and new difficulties.
A Happy Ending … Quality Communication and Leadership
The challenges are considerable, but potentially very healthy. They force us out of a silo mentality – the dark side of specialisation – obliging us to share our expertise, and to do so with consideration and respect. The first part of this requires technique, while the second goes deeper. Hiding behind job titles, grey-haired seniority or flashy marketing slides when working with well-informed colleagues and clients is not an option! Expectations of communication and leadership quality are at an all-time high. Surely that's a good thing?
ICONDA is passionate about helping individuals, teams and organisations find quality solutions to challenges in this context.