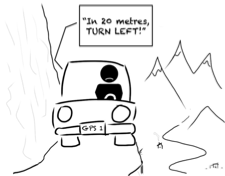 Suppose that, when starting out to an unknown destination, I just type my target coordinates into my GPS and set off. If I am lucky, then I will end up at my destination on time. If not then, lacking any feeling for the terrain, I could become hopelessly lost (how many GPS users end up in Ashford, Kent instead of Ashford, Surrey, I wonder? – both are just outside of London, but they are eighty miles apart). GPS is a fine system, but the technology can disconnect me from reality.
Be aware that there is an equivalent to GPS for encounter preparation: Get Powerpoint Slides! It has similar mind-numbing properties to its route-finding counterpart and consists of planning a meeting around a slide set, then letting PowerPoint drive the proceedings. Slides are useful, of course, but I should not rely on them to manage meetings. Just as overuse of GPS can cause me to lose touch with the physical terrain, so the Get Powerpoint Slides approach can cause me to lose contact with my clients.
Hence, even though I still use slides, the tool that I rely on most is a MAP!
---
More about MAP:
Get the Client Encounters of the Technical Kind book!