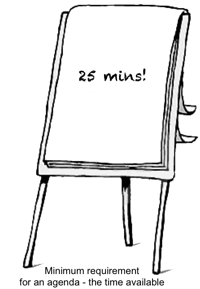 When setting an Agenda for a client meeting, and where both parties are expected to present material, I endeavour to have my client present before I do. This will allow me to take their view of the world into account when I make my presentation. If the client insists that I go first, as they often do, then I present only limited information at first. Later, after they have presented, I may come back and present details that I will know (following their presentation) are relevant.
The absolute minimum agenda is the amount of time available!
It takes only a few seconds to check this, just as it should not take long to agree on the Purpose and Goals. And if it does, then surely it is important to take that time!
---
More about PAGE:
Get the Client Encounters of the Technical Kind book!